Dirty Dancing has to be one of the best movies ever! How can you resist dancing and singing along when you hear those well known songs?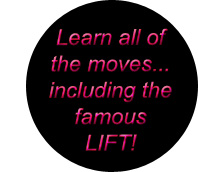 We will teach you all the classic moves from the film and lots of other partner work;
salsa steps, fancy footwork, spins, pretzels, and even lifts
when you get to the more advanced stages.
If you fancy getting up close and personal in this hot and sexy class...then grab a partner and come and have the time of your life!