From the age of 6 to 10 I was keen at Gymnastics attending both during school and as an outside activity.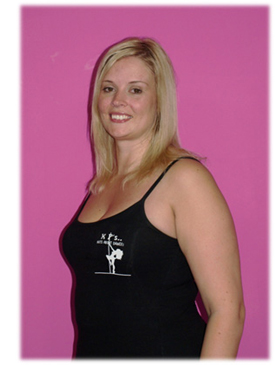 I also took part in a couple of productions mainly the singing parts as soloist when I was 9 and 12yrs old.

At 11 I organised a dance group at school; meeting up during lunch break and choreographing Michael Jackson dance routines; I was a huge M J fan and spent hours in my room practising his routines.

At 15 I started Kung Fu and although I didnít get to an amazing standard I really enjoyed all the Katas I found them elegant and calming.

As an adult I have enthusiastically taken part in regular exercise classes such as Step, Body Balance and Zumba and love anything dance based especially KPís Street Classes and the Burlesque workshops.

I have been doing Pole Fitness since KPs opened in 2007 and I still love it!! As a mother of two boys it has helped me lose weight, tone up and gives me a great feeling of satisfaction when I achieve a new move. I am proof that bigger girls can do pole too!!

Georgy approaches her students in a calming manner while gently pushing them in the right direction. She will help you see the humorous side if you are struggling with a move. She has many lovely qualities to offer as a teacher.